Date/Time
Date(s) - 03/13/2019
6:00 pm - 8:30 pm
---
Event Details
With Chef Laura Casasayas Pala
Join Chef Laura in preparing fine versions of the most tasty and authentic Spanish Tapas. Enjoy experimenting with different textures, flavors and ingredients in this hands-on cooking class that will feature gazpacho, creamy black rice and calamari, Txacha, ham and cheese fried roll, and stuffed red pickled pepper! Savor your tapas with a glass of Spanish wine.
Do you know where the word "tapas" comes from?
King Alfonso XIII was on an official visit to Cadiz, southern Spain, sitting in a restaurant next to the beach. He asked for a glass of wine. Suddenly the wind rose. The waiter covered the wine glass with a slice of ham. The king, curious, asked why the waiter had done that. He explained that he had put a TAPA (top in English) to the cup to protect the Wine from the Sand. The King liked the idea and when he finished his first glass of wine he decided to order another glass of wine with the same TAPA.
That's why in some of the wineries and bars in Spain offer food with your glass of wine or beer.
About the Instructor:
Laura Casasayas was born in Catalonian, Spain and raised around food, stories and traditional cooking. Her grandmother taught her the magic of what ingredients make a delicious, nutritious homemade Spanish dish. Laura is a Spanish Acupuncturist, Dietitian and creator of the 11th Hour Coffee food menu. Laura has more than 10 years running her own practice in Spain. she Recently moved to Santa Cruz and has a very strong desire to keep educating and expanding awareness in mindful and healthy eating.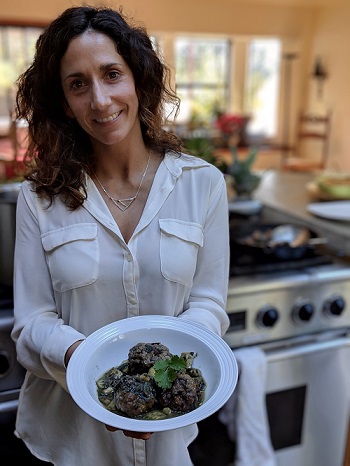 ---