Date/Time
Date(s) - 03/10/2019
2:00 pm - 4:00 pm
---
Event Details
Do you know a girl that loves to cook? Does she want to create her own recipes & Menus?
Do you know a girl that likes to take pictures or is always snapping shots with her cell phone?  If so
You're Invited to our FREE Open House for Girls in Middle & High School. During your visit, We will explain the Features and Benefits of this unique, innovate and fun program. We will help her see herself in a more positive way with a different lens.
We use Food & Photography to boost and maintain self-esteem. She will create. She will develop. She will Bake. She will Cook. She will learn about color theory. She will learn about lighting. She will learn to love herself more "through Her Own Lens".
Highlights:
After the welcome, your girl-chefs will participate in some old school hands-on prepping and cooking. The Parents Presentation begins at 2:30. The parent's presentations should last 30-45 minutes. Meanwhile, your girls are enjoying an experience with our educators including our candy-maker, chefs, bakers, & photographers. Their workshops will conclude around 3:30/3:45 PM.
There is a free parking lot available with an entrance on 46th street. There is also street parking on Chestnut. The High School is accessible by SEPTA.
The Kitchen is located on the 3rd floor. Let us know if you need special accommodations otherwise, the kitchen is located on the 3rd floor. Students will be standing most of the classroom time.
Please wear comfortable, closed-toe shoes and long hair should be tied back. Let us know if there are any allergies.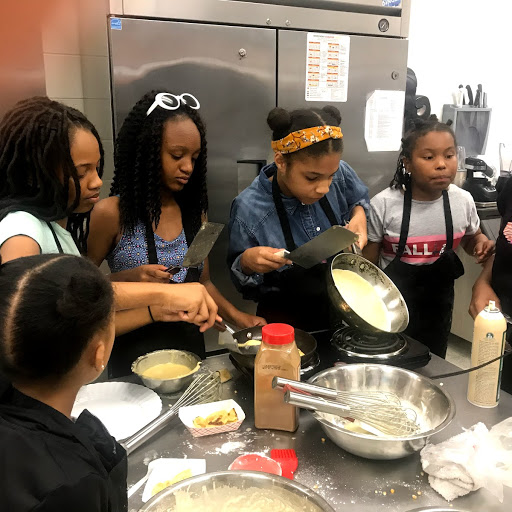 ---